CATHOLIC SCHOOLS INSPECTORATE
From September 2022, all s48 inspections of Catholic schools in England and Wales will be carried out by the Catholic Schools Inspectorate (CSI).  The proposed framework for inspection and for a school's ongoing self-review can be viewed by clicking on the link below.  Please note until September 2022, s48 inspections in the Diocese of Portsmouth will continue to be carried out under the interim arrangements published in 2019, details of which can be found below.
INTERIM S48 INSPECTION ARRANGEMENTS – PLEASE READ BEFORE CLICKING ON ANY LINKS
The Catholic Education Service are currently working towards establishing a s48 inspection framework that will be used whenever Catholic schools are inspected in England and Wales.  In some key areas this will differ significantly from the approach currently employed by the Diocese of Portsmouth.  It is expected the new framework will be in place from September 2020.  
It has been decided that for the academic year 2019/20 s48 inspection in the Diocese of Portsmouth will incorporate some of these key changes in order to help schools and inspectors familiarise themselves with how the changes will impact on future inspections.  Details of these interim arrangements can be found by clicking on the links below.
Interim s48 Arrangements for 2019/20
FAQ re. Interim s48 Arrangements
Any school due an inspection in 2019/20 should read these notes carefully.  Care should also be taken when using any of the pro-formas, guidance found by clicking on the other links on this page as they may not apply fully under the interim arrangements.  If in doubt please contact the Catholic Schools and Academies Office for clarification.
Diocesan Self-Review and s48 Validations
Self-evaluation is now an integral part of school planning and improvement. It is a continuous process, its importance recognised in the Ofsted school inspection process. For many aspects of their work schools have access to various schemes for self-evaluation.
The Diocesan Framework for the Self-Review and Evaluation of Catholic Education, originally established in 2002 and comprehensively revised in 2007 and again in 2013, is designed to assist schools in the process of reviewing the Catholic education which they provide, evaluating its content and planning its future development. It enables schools to systematically assess the nature of their Catholic identity and how effectively their pupils benefit from the curriculum and Catholic character of the school so as to inherit the teaching of Christ:
"I have come that you may have life and have it more abundantly." (John 10.10).
The Catholic school offers an education which is religious in both its context and content. There is no area of  its life or curriculum which is not relevant to its Catholic character. However, because many aspects of school life are subject to review processes by such bodies as Ofsted and ISIS, the Self-Review and Evaluation of Catholic Education focuses on the following key aspects:
The school as a Catholic community
Curriculum religious education
Pupils' spiritual and moral development
The school's self-review report and the evidence to support it will provide the structure and format for its validation by Diocesan validators. The Validation Report fulfils the requirements of Section 48 inspection and the Bishop's right under Canon Law to inspect religious education in schools.
In the Diocese of Portsmouth,  a third of our schools are currently judged as outstanding following their most recent s48 inspection, just under two thirds good, and only two schools judged to require improvement.  These outcomes are slightly better than the corresponding Ofsted data (27% outstanding, 61% good, 7% requires improvement, and 5% inadequate.)  A full breakdown can be viewed by clicking on this link.
Individual school s48 inspection reports can be viewed within their section on the appropriate schools partnership page (see Catholic Education in the Diocese of Portsmouth)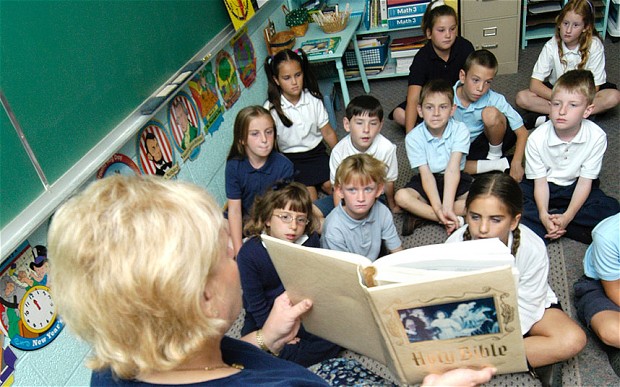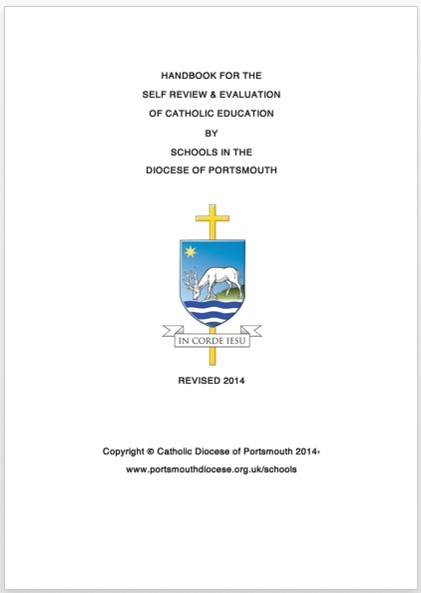 Click on the above image to view the full handbook
MONITORING
ETHOS WALK observing worship assessing quality of teaching and learning
SELF-REVIEW SHEETS
SELF-REVIEW SHEETS (BLANK) SELF-REVIEW SHEETS (GUIDANCE)  SELF-REVIEW SHEETS (EXAMPLES)
QUESTIONS FOR SECTION A QUESTIONS FOR SECTION B QUESTIONS FOR SECTION C
SELF-REVIEW ACTIVITIES
STAFF SURVEY  PARENTAL SURVEY  PUPIL SURVEY
PUPIL RE SURVEY (PRIMARY) PUPIL CONFERENCING (PRIMARY) SCHOOL COUNCIL WORKING WITH GOVERNORS     WORKING WITH STAFF WORKING WITH PARISHES AND PASTORAL AREAS
S48 INSPECTION (DIOCESAN VALIDATION)
PROCESS REPORT EXAMPLE STAGES OF THE PROCESS
CONTEXTUAL INFORMATION REQUEST PRE-VISIT (PRIMARY) PRE-VISIT (SECONDARY)  DOCUMENTATION (PRIMARY) DOCUMENTATION (SECONDARY) STEWARDSHIP
GUIDANCE FOR S48 INSPECTORS (VALIDATORS)
REPORT TEMPLATE   BEFORE THE PRE-VISIT  THE PRE-VISIT
 BETWEEN PRE-VISIT AND VALIDATION THE VALIDATION  AFTER THE VALIDATION
DIOCESAN S48 INSPECTION INTERIM ARRANGEMENTS FOR 2019/20
POWERPOINT PRESENTATION s48 Moving forward – diocesan response  FREQUENTLY ASKED QUESTIONS
DIOCESAN MONITORING VISIT