Each term we provide an opportunity for headteachers to hear about and discuss the latest educational developments both within our own diocese and, where appropriate, nationally.  These briefings are normally held in the Apollo Hotel, Basingstoke as this is central to the diocese and has good transport links.
Following the briefings any relevant presentations and handouts will be circulated to heads and placed on this page.
To book a place please visit the TRAINING AND BRIEFINGS page.
AUTUMN TERM 2020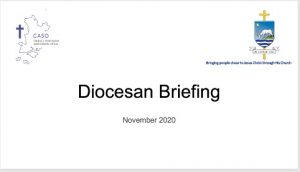 headteacher briefing – AUTUMN 2020 – powerpoint
s48 Inspection Update
Exam Update
RE Curriculum Directory Update
Directory of Prayer and Liturgy
Advent and Christmas
Trustees Liability – Health and Safety
SPRING TERM 2020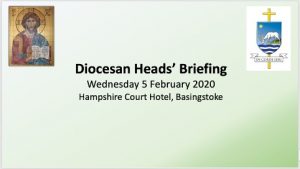 headteacher briefing – SPRING 2020 – powerpoint
Buildings Update
A Fertile Heart
Ofsted Feedbacks
Day of Prayer for School Leaders
Early Career Framework
Feedback from Clergy Training Day
Feedback from Diocesan Pastoral Council
Feedback from Steering Group
Pilgrimage October 2020
Diocesan Education Strategy
Partnership Groups
Episcopal Leadership Team
AUTUMN TERM 2019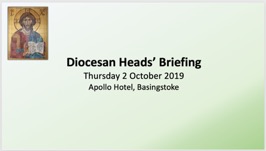 headteacher briefing – autumn 2019 – powerpoint
Safeguarding
Admissions
Diocesan Pupil Data
RE and s48 Inspection Update
Dragons Den
Feedback from recent Ofsted inspections
Buildings Update
CASO –  Way Forward
Steering Group Update
Stewardship Group Update
Relationships and Sex Education
Updates
Diocesan Pastoral Council