PRAY, FAST AND GIVE – LIVING OUT THE KEY MESSAGES OF LENT AT ST GEORGE COLLEGE, SOUTHAMPTON
Ash Wednesday: Our Lent started with our whole school liturgy on Ash Wednesday focusing on repentance and renewal. Pupils and staffed received ashes to mark their recommitment to almsgiving, prayer and fasting as we begin the season as a school community (see photo). Each week of the school calendar is focusing on one of these aspects in the lead up to our Passiontide services at the end of term.
Fasting: Our sixth form CAFOD Young Leaders are leading the way for the rest of the community by organising a Walk for Hunger that pupils and students will be joining in with as well as having opportunities to fast. Our CAFOD Young Leaders are also fundraising in the canteen this week. They are encouraging students to decline a piece of their lunch pack as an act of fasting and school will be making a donation to CAFOD for every student who gets involved.
Our House Captains have been supporting CAFOD's 'Go Green' campaign this year by holding fundraisers throughout the year. They've raised £800 so far with more planned.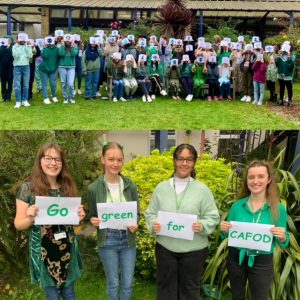 We also had a green themed day in school, where students paid £1 to come into school in home clothes to raise money and awareness.
Prayer: We are reinvigorating the prayer life of the school as we come out of the pandemic, with a regular community prayer update which parents and staff have signed up to. On top of our daily Morning Prayers, Lent is giving us extra opportunities to introduce new ways of approaching prayer to pupils.
Prayer week: This year we are running a school version of 24/7 prayer during w/b 21st March. We have planned a total transformation of our Chapel to create an interactive space where students can explore and walk through the Lord's prayer in a variety of different ways. We are really excited about this at St Anne's. We have lots of parents on board to help us with creating the space and coming in to pray with us. At the end of the week Father Luca will be leading us in a prayer celebration with parents, staff and governors. I would love to send you some photos and reflections later in Lent.
Almsgiving: In the last week of the school term, we have planned an Almsgiving week. Every day there will be some form of giving within our community. We will be doing things such as a random acts of kindness day, a non-school uniform day, a talent show, foodbank collections and much more.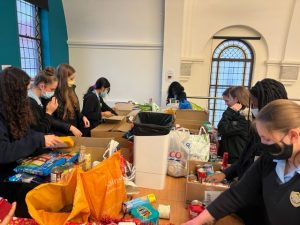 We have a number of foodbank collections planned across this year. Here you can see our year 11s organising our December collection.
We collected over 300 shoeboxes for our local elderly at Christmas
Staff at St Anne's have been providing much needed essentials for those suffering in Ukraine. We were overwhelmed with supplies from staff with provisions of everything from baby essentials to tents (see photo for some of the donations). We will have an almsgiving week which focuses on us giving of ourselves in different ways to the World.