Learning Support Assistant Receives Diocesan Medal
The children of St Thomas of Canterbury Catholic Primary school, and the parishioners of St Thomas of Canterbury Catholic Church, are celebrating this week as Mrs. Carol Reading was awarded the Diocesan Medal for her twenty years of dedicated service preparing children for their First Holy Communion.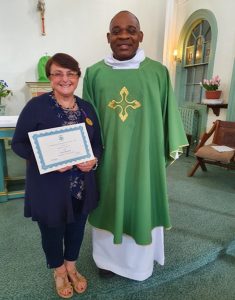 Mrs. Reading, a Learning Support Assistant at St Thomas's, received the award as recognition from the Diocese of the many hours of her own time she dedicated each year to helping the children.
Headteacher, Mrs. Sanderson said: "Carol is a very special member of our community and has made such a difference for so many of our children. It is lovely to see this effort recognised by the Diocese."
Mrs. Reading said: "I am very honoured to receive this special award, I have loved working with the children."
An award ceremony took place at St Thomas of Canterbury Catholic Church in Newport with Father Emmanuel presenting the award.